It is T-5 days until D-Day aka the day I leave all I know aka the day I leave for Phoenix! I'm starting to feel so many different emotions about it. Excitement and nerves, anxiety and happiness, ready for the adventure yet terrified of it all.
But I don't really have time to freak out about it since I have a million and ones things to do. I am going to check out a possible venue site for my wedding tomorrow. It still seems so surreal that I will be getting married next summer!!! Yay!!! Also, Evan and I are going to a wedding this Saturday and then on Sunday my parents are hosting a graduation/going away/engagement party. And I still have SO. MUCH. TO. PACK!!! Here is a before picture of just my clothes.
Yeah. It's just a little ridiculous. And that's just clothes. And I just cleared out of my apartment in Madison so there is even more stuff! Seriously, I don't know how I accumulated so much stuff and somehow didn't notice. I bet that I'll feel the same after my first year of teaching and I'll be standing there in front of the closet in my classroom, pondering where all this stuff came from!
But good news! I was able to sort and organize my clothes into one suitcase and one duffel bag. I have a huge pile of stuff to go to Goodwill and since I'm keeping all of my heavy sweaters and boots here for when I return to Wisconsin in the winter. Now the tough part is next - determining which things from my teacher hoarding pile do I need right away and what can I get at a later date? I've been collecting books for almost a year and have a pretty great collection. Moving them will be the tricky part though since I probably have like 500 books (I'll definitely do a post on that next!!)
And more good news! I got my first blog award! It's from Janis over at Grade Three is the Place for Me! A special award for bloggers who have less than 200 followers! So I definitely qualify for that!
Here are the rules for the award:
1. Link back to the person who gave it to you.
2. Post the award to your blog.
3. Give the award to at least 5 bloggers with less than 200 followers.
4. Leave a comment on the 5 blogs to let them know that they have been offered this award
So I am passing it on to a few of my favorite bloggers that I have been following before I started my own blog!
2. Aimee at Pencils Books and Dirty Looks
3. Heather at The Meek Moose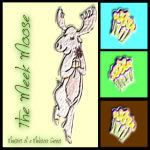 Of course, some people's buttons aren't showing up, but I am too tired to figure out what the problem is; perhaps tomorrow! Have a wonderful night!