Hi everyone!
This past weekend was wedding weekend for my very best and dearest friend. It was truly a wonderful day - long - but wonderful nonetheless. She and her new husband Ryan are great people and I loved celebrating their special day with them :)
Beautiful day for a beautiful bride!
So today I received an email from the first grade team leader at my new school asking me about folders and spirals for next year. Since my school has a 90% poverty rate, the school provides all of the supplies for the kids, which I think is fantastic since school supplies can be so expensive and the lists can be extensive. So anyways, the team leader emailed me asking me how much of each item I wanted. As a first year teacher, everything is so new to me that I was almost thrown into panic mode. My first real decision as a real teacher - do I want my kiddos to have a poetry spiral?! Would a folder work better? What about a math journal? A science journal? A thoughtful log? I'm sure veteran teachers are chuckling just a bit, but the fact that I had to decide makes it that much more real that I will be a real teacher next year, responsible for giving 23 kiddos the knowledge they need to help them do great things. So after I debated for quite some time, I decided on a poetry spiral, a thoughtful log, a math journal, and a science journal. For folders, I decided on a writing folder, a take home folder, a resource folder, and an extra in case one gets beats up over the year. I think that seems pretty good, but I'd love some second opinions if anyone has any ideas or if I missed something completely obvious!
And one last thing, Kate over at EduKate and Inspire is having a giveaway! There are some awesome prizes that I would love to win! Go check it out!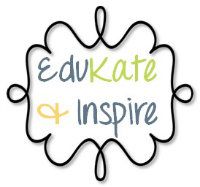 Also Lacey over at Wild about Teaching is celebrating 500 followers, something I hope to celebrate at some point! She is having a huge giveaway with some sweet prizes so definitely go and investigate!
And Tonya over at Tonya's Treats for Teachers is also having a giveaway. She is celebrating 300 followers and is giving away $10-$30 of her creations from TPT! So exciting!